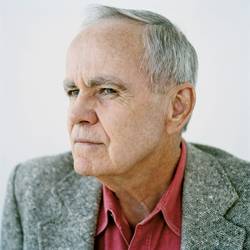 photograph by Derek Sharpton.
Cormac McCarthy Collection, 1984, n.d.
Please click here for the extensive Cormac McCarthy Papers, SWWC Collection 091
5 folders (0.25 linear feet)
RESTRICTED MATERIAL:
None of the material in this collection, whether an entire work or a single page, may be photocopied. Mr. McCarthy has requested not to be contacted by any means for permission to reproduce or publish this material.
Acquisition: Gifts donated by Cormac McCarthy, 1989, and Bill and Sally Wittliff, 1989.
Access: Open for Research.
Processed by: Amanda Oates, 1999.
BIOGRAPHICAL NOTE
Cormac McCarthy, author of award-winning and best-selling novels including All the Pretty Horses, The Crossing, and Cities of the Plain, was born Charles McCarthy, Jr., on July 20, 1933, in Providence, Rhode Island. The McCarthy family moved to Knoxville, Tennessee in 1937. McCarthy later attended the University of Tennessee, completing one year. He then served four years in the U.S. Air Force, and then returned to the University of Tennessee for an additional 3 years, leaving without a degree in 1960 to pursue his writing career.
Early on, McCarthy won fellowships and awards, though not a wide readership. In 1960, he won an Ingram-Merrill Foundation grant for creative writing, and in that same year, published his first novel, The Orchard Keeper, for which he won the William Faulkner Award in 1965. Also in 1965, he won an American Academy of Arts and Letters travelling fellowship to Europe. The next year, he won a Rockefeller Foundation grant. In 1968, his second novel, Outer Dark, was published, followed by Child of God, in 1974. He won a Guggenheim fellowship in 1976. His fourth novel, Suttree, was published in 1979. Two years later, he won a MacArthur Foundation Grant, also known as a "genius award", upon which he moved out of the motel where he was living in Knoxville, and purchased a home in El Paso, Texas.
As McCarthy tends to set his novels only in places of which he has first hand knowledge, his earlier novels were set in Tennessee, and novels written after his 1981 move to El Paso have been set in the Southwest and Mexico. In 1985, he published Blood Meridian, considered by many to be one of his finest works. In 1992, All the Pretty Horses, the first of the Border Trilogy, was published, winning the National Book Award for fiction and the National Book Critics Circle Award for fiction. In 1994, The Crossing became the second of the trilogy, followed in 1998 by Cities of the Plain. All three of the Border Trilogy novels have been very successful both critically and commercially. Also in the 1990s, McCarthy published a play, The Stonemason, a work he had begun writing in the 1970s.
McCarthy has been compared to writers such as William Faulkner, Ernest Hemingway, and Herman Melville, sharing with such writers a "rustic and sometimes dark humor, intense characters, and violent plots," (Dianne Cox, Dictionary of Literary Biography). New York Times reviewer, Sara Mosle, describes his works as having always been "drenched in blood, much of it spilled in the South and the Southwest in the latter half of the 19th century," and McCarthy's vision as one of "bleak timelessness," (May 17, 1999). In one of a very few interviews, McCarthy said he had "always been interested in the Southwest. There isn't a place in the world they don't know about cowboys and Indians and the myth of the West," continuing on to say that there "is no such thing as life without bloodshed…The notion that the species can be improved in some way, that everyone could live in harmony, is really a dangerous idea. Those who are afflicted with this notion are the first ones to give up their souls, their freedom. Your desire that it be that way will enslave you and make your life vacuous," (New York Times Magazine, April 19, 1992).
BOOKS PUBLISHED
The Orchard Keeper. New York: Random House, 1965.
Outer Dark. New York: Random House, 1968
Child of God. New York: Random House, 1974
Suttree. New York: Random House, 1979.
Blood Meridian, or the Evening Redness in the West. New York: Random House,
1985.
All the Pretty Horses. New York: Random House, 1992.
The Crossing. New York: Knopf, distributed by Random House, 1994.
Cities of the Plain. New York: Knopf, 1998.
PLAYS
The Stonemason : a play in five acts. Ecco Press, 1994.
SCREENPLAYS
The Gardener's Son : a screenplay. Ecco Press, 1996.
SCOPE AND CONTENTS
This collection is comprised of typescripts of one play and two screenplays by McCarthy. The play, The Stonemason, was published in 1994. The screenplay, Cities of the Plain (1984), predates the publication of the novel by the same name by fourteen years. Both screenplays in this collection, Cities of the Plain (1984) and Whales and Men (n.d.) are unpublished. These typescripts are photocopies of originals, signed by the author on the title page, and do not include annotations or edits.
None of the material in this collection, whether an entire work or a single page, may be photocopied without written permission from the author.
INVENTORY

Box Folder

569 7 The Stonemason : A Play in Five Acts (102 pp.)(n.d.)

569 8 Cities of the Plain (156 pp.)(1984)
569 9 Photocopy (for reference use)

569 10 Whales and Men (133 pp.)(n.d.)
569 11 Photocopy (for reference use)